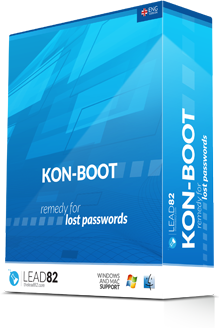 What is Kon-Boot for Windows?
Kon-Boot is an application which will silently bypass the authentication process of Windows based operating systems. Without overwriting your old password! Easy to use and excellent for tech repairs, data recovery and security audits.
Commercial Kon-Boot version works with both 64-bit and 32-bit Microsoft Windows operating systems and also include privilege escalation and sticky keys feature.
What's new in version V2.5?
- Windows 10 support added (local authorization bypass)!
- Fixed few installer issues
- To stay up to date follow us on twitter (@theLEAD82)




Buy now Kon-Boot for Windows
By buying our software you are agreeing to the terms of our EULA (click to view it).
IN CASE OF ANY PROBLEMS CONTACT US: support@kon-boot.com
After the purchase an e-mail will be sent to your e-mail address (one used in paypal account) with a link to our software. Please check your spam folders. In case of any problems please contact us. Please disable your antivirus before downloading Kon-Boot - your antivirus software may report a false-positive!
[1] Perpetual Personal Licenses include 2 weeks support and 2 weeks free updates. A perpetual personal license can be used only by the named person who purchased it. License transfer and concurrent usage are prohibited. Personal licenses purchased by organizations and business entities are invalid. Personal licenses can be used solely for non-commercial purposes. We don't provide invoices for personal licenses. If you are the only person planning to use the license, then the Personal License is the best choice for you. You are also not allowed to use kon-boot on computers which are not your property. If kon-boot worked on at least one of your machines you are not qualified for refund.
[2] Perpetual Commercial Licenses are available to a developer within a a company or organization, requiring the software for general commercial use. They include 6 months support and 1 year of free updates. Commercial Licenses registered to a legal entity allow for use of the software on any computer, operating system, and by the registered user within the legal entity. The provided total number of concurrent users cannot exceed the number of purchased licenses.
Please note: Software will be only available for download during free support period so please store it in secure location. Refund policy: If kon-boot worked on at least one of your machines you are not qualified for refund. Not meeting system requirements cases will not be refunded. In order to get a refund you will need to provide a video demonstrating your problems with kon-boot (specifically booting target system with kon-boot media). Refund requests without proof of not working (video recording) will not be accepted. Due to numerous cases of scam/extortion cases "accidental" purchases will not be refunded. Ignoring the system requirements is also not qualified for refund. Please purchase wisely!
Kon-Boot was created by Piotr Bania (the original and only author). Kon-Boot is currently distributed only through author's website and LEAD 82 (LEAD 82 Piotr Bania) company website. Please notice us if you have purchased kon-boot from external illegal websites.
System Requirements
Kon-boot supports following operating systems:
Microsoft Windows XP 32Bit/64Bit (all versions since SP2)
Microsoft Windows Server 2003 32Bit/64Bit (all versions)
Microsoft Windows Server 2008 32Bit/64Bit (all versions)
Microsoft Windows Vista 32Bit/64Bit (all versions)
Microsoft Windows 7 32Bit/64Bit (all versions including EFI)
Microsoft Windows 8 and 8.1 32Bit/64Bit (all versions including EFI, local and online authorization)
Microsoft Windows 10 32Bit/64Bit (all versions including EFI, local authorization only + possiblity to add local administrator account automatically (USB only))
Additional requirements: Pentium III compatible processor, 10MB free space on the hard drive. CD-ROM, Floppy Drive or USB flash drive, keyboard, Internet connection (for product download). Compatibile BIOS version. Windows system is required for the installation. USB flash drive is required for the EFI version to work. Tablets are not supported. Disk encryption is not supported. Multiple operating systems installed on target computer are not supported. All systems requirements as well as installation tutorials can be found in our official technical guide (click to download PDF).
Testimonials
I work in computer repair shop and I cant praise Kon-Boot enough. Thank you for making my life less miserable!

Quality tools, quality research and quality services. Always looking forward to more from you.

Five seconds and my problems are resolved! Kon-Boot is a life saver, thank you!
Latest news
Kon-Boot for MAC with macOS Sierra support was released!
Published: 24.09.16
Kon-Boot 1.6 for MAC with macOS Sierra support was released. The Kon-Boot 2in1 (Windows and Mac OSX) pack was also updated.
more